Victorian and Quarry floor cleaning
We clean all types of flooring including
Victorian geometric encaustic floor tiles
and
Quarry floor tiles
, we can remove years of dirt and contamination including paint, polishes, adhesives and cement residues. We can rejuvenate tired and dull
Victorian flooring
giving them a new lease of life.
We are often asked to restore
Victorian flooring
that as been hidden underneath of carpeting or other floor coverings, these floors have often been neglected and covered in all sorts of contaminants, we love a challenge and love to see these neglected floors brought back to their former glory.

Here we have a Victorian tiled floor in Nottingham that was covered by a carpet, the client didn't know the floor was there, we had to remove numerous contaminants, paint linseed oil, gripper rod adhesive and more.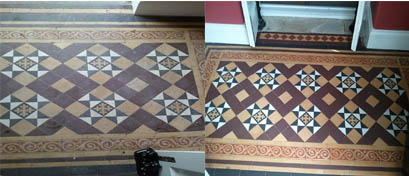 This Victorian floor was part of a large project we carried out near Chesterfield, we cleaned several floors at this property including this Victorian entrance hall.

Following our intensive floor cleaning processes for Victorian and quarry floors we will advise you on the most appropriate sealing and polishing processes for your floor, from our premium colour enhancing seals to our hard wearing satin finish topical seals you can trust us to advise you on the best way to keep your floors keeping their new lease of life for longer
Victorian floor cleaning
Victorian floor sealing
Victorian floor renovation
Victorian floor polishing
Quarry tile floor cleaning
Quarry tile floor renovation
Quarry tile floor Sealing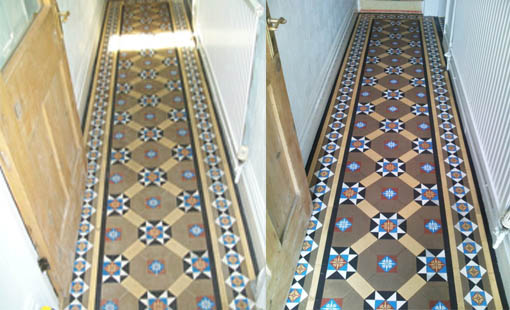 This Victorian hall floor was in York, the floor just needed a little attention to give it a little boost, we deep cleaned using PH neutral floor cleaning agents and diamond pads, we then sealed using a premium colour enhancing seal, this seal brightens the colours and gives long lasting protection.
Victorian and quarry floor cleaning, sealing and polishing services

Nottingham Victorian floor cleaning
Derbyshire Victorian floor cleaning
Leicestershire Victorian floor cleaning
Yorkshire Victorian floor cleaning
Lincolnshire Victorian floor cleaning
Warwickshire Victorian floor cleaning